"Churches of Enchantment" Tours
Our "Churches of Enchantment" tour is offered to groups that have a particular interest in the architectural and religious history of the southwestern part of the United States. Santa Fe was founded in 1610, and many of the adobe churches in northern New Mexico are over 300 years old.
In the churches we visit, you will see many santos, which are folk art depictions of saints and religious figures. These figures are uniquely New Mexican and you'll find them in almost all New Mexico chapels and churches.
Santos are represented in retablos (painted panels, almost always done in wood) and bultos (carved statuettes, also usually made of wood), and they carry an instantly recognizable flair --- less formal, more earthly than ecclesiastical art that is typically displayed in churches.
Today, these statues and painted panels are as likely to appear in museums and galleries as they are inside churches. In fact, one need not be religious to appreciate the beautiful and artistic expression of these santos. The evolution of this folk art is a tradition that thoughtful travelers can incorporate into their journeys around New Mexico, also known as the Land of Enchantment.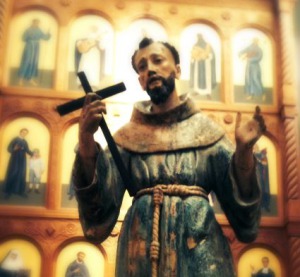 Local artisans in New Mexico villages have created their own depictions of the saints, using materials at hand, such as animal hides and water-based paints made with ground charcoal, clay, and other materials. These items were created simply because the colonial towns, such as Santa Fe, were quite far from major population centers, and classically-trained European artists did not live in the southwest. Also, canvas and oil paints were not brought up the Camino Real's 1,600 miles.
In Santa Fe, we visit the Cathedral Basilica of St. Francis; the famed Loretto Chapel, with its curved staircase; and the Chapel of San Miguel that was built in the early 17th century and is considered the oldest church in America. Its wooden main altar screen dates from 1798, making it one of the oldest in New Mexico. A depiction of San Miguel, the only known canvas painting (circa 1750s), hangs at the top of the altar screen. This church has frequent re-mudding of the exterior, and the church officials occasionally ask for volunteer help for that project.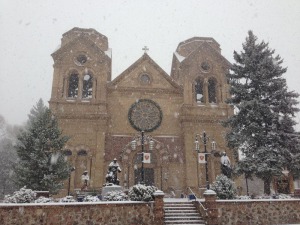 Our tour features churches inside the city limits of Santa Fe as well as several others north of town. If your group only has time to visit the churches inside Santa Fe's city limits, we can conclude the tour after visiting the first three churches. However, if you have time to visit some of the beautiful churches outside of Santa Fe's city limits, we can take your group to the village of Chimayo, where we visit two religious treasures. The Santuario de Chimayo is world-famous and is the destination of religious pilgrims at Holy Week. The church was built on earth said to have miraculous curative powers, and the church is known as the "The Lourdes of the West". Nearby is the Santa Cruz de la Canada Church, which is a fine example of 18th-century Franciscan architecture.
Each tour includes an informal tea at an award-winning home in Santa Fe that has been featured on HGTV due to the authentic Spanish antiques in the home as well as an amazing private collection of religious artworks from around the world. If weather permits, the tea will be served on the outside patio that offers a spectacular view of the nearby Sangre de Cristo mountains
Group tours begin at $60. per person. 8 person minimum. Call to schedule a group - 505-438-7116
We hope you'll join us for our "Churches of Enchantment" tour! -
Click here to Book Now